When you are looking for an alternative cleansing program, that is generally easier to the body and mind, we have just the solution for you.
Soups provide a warm and satisfying way to introduce nutrients into your system - while still giving the digestive system some rest and allowing the body to divert its energy to flushing out toxins.
Incorporating soups into your diet, especially vegetable and broth-based ones, allows the intake of a wider variety of vegetables, herbs and spices that are rich in nutrients and are linked to the prevention of more diseases.
Soups are also a great source of fiber, which promotes detoxification by cleaning the walls of the intestinal tract and aiding bowel movement. It helps anchor your blood sugar, making you less hungry throughout the day while consuming less calories. It introduces more textures and promotes chewing, which leads to smooth digestion and absorption of nutrients by initiating the release of digestive enzymes that break down food.
There are 3 soups provided per day, with 900kcal, 1200kcal and 1500kcal options. Soups, just like Jabs, are best done for 3-5 consecutive days, at least once a month!
| | | | |
| --- | --- | --- | --- |
| DAY | MEAL 1 | MEAL 2 | MEAL 3 |
| MONDAY | Sweet Potato and Broccoli | Mushroom and Red Rice | Rustic Vegetable |
| TUESDAY | Creamy Pomodoro | Lentil and Vegetable | Onion and Thyme |
| WEDNESDAY | Cauliflower and Leek | Summer Vegetable | Chicken and Corn Chowder |
| THURSDAY | Pumpkin and Carrot | Chicken Noodle Soup | Minestrone |
| FRIDAY | Kale and Apple | Chicken Enchilada | Split Pea and Ham |
* menu does not vary per week
MAKE THE MOST OUT OF YOUR CLEANSE BY FOLLOWING THESE TIPS!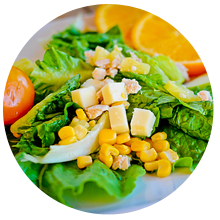 Keep intake of non-fruits and vegetables to a minimum.
Stay away from processed, salty, sweet and oily food, as well as alcohol, carbonated and caffeinated drinks.
Take the Pre-Jab Jolt if you need help easing into the cleanse proper.
Get a good night 's sleep.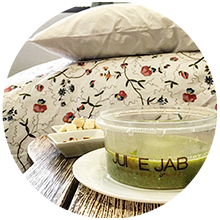 Consume 1 soup as substitute for each of your 3 daily meals. 
Keep hydrated by drinking lots of water.
Skip excess activities that will take up more of your energy, rest is key to give you the best experience.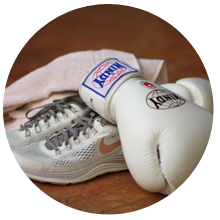 Introduce fruits and vegetables to your regular diet.
Stay away from processed, salty, sweet and oily food, as well as alcohol, carbonated and caffeinated drinks.
Take the Post-Jab Jolt if you need help easing back into a healthier on-going diet.
Make Juice Jab part of your lifestyle by doing a cleanse once a month!